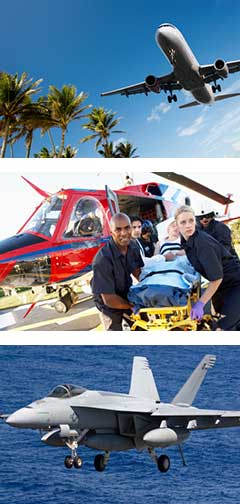 FEDERAL AVIATION ADMINISTRATION (FAA) EXAMS
All (Class I, II, III) FAA exams are $150.00.
EKGs are required for Class I exams at age 35 for baseline, then once annually thereafter. Class II and Class III do not routinely require an EKG, but it may be necessary in some cases. If an EKG is required, there will be an additional $40.00 charge. Please note, this is an administrative physical and is generally not covered by medical insurance. We are unable to bill your carrier for this service. You must pay in full prior to examination.
Dr. Jeffrey H. Dysart is a Senior AME. He proudly performs FAA class I (Air Transport), class II (commercial) and class III (private pilot) examinations. A pilot himself, Dr. Dysart understands your need for thoroughness, speed, and efficiency in completing your exam.
Dr. Tam Tran is a designated AME who performs FAA class II (commercial) and class III (private pilot) examinations. Dr. Tran is proud to serve the needs of our aviation community.


We offer examinations by appointment Monday - Friday and some Saturdays during office hours. You may book online at ZocDoc:

Book an appointment
by searching for "Certified Examination for Pilot", or you may call our office at 858-268-1111.
Prior to your appointment, go to the FAA MedXPress web site at https://medxpress.faa.gov to complete your 8500-8 forms. Please double check your name and demographic information as we are unable to correct this if submitted incorrectly. At the end of your application, the system will give you a confirmation number. Be aware you must submit your portion of the 8500-8 application to the FAA before you will be given your confirmation number. Bring the confirmation number and a government-issued photo identification to your appointment. Our AME will perform your exam, log-on to your application, input the AME information, and print your certificate for you.