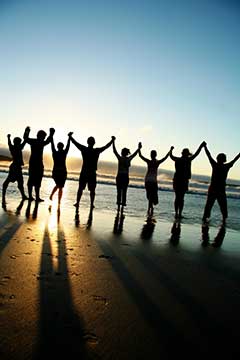 PROVIDER ROLES:
See also: PRIMARY CARE PROVIDERS.
MEDICAL DOCTORS
Medical Doctors (M.D.) complete a Bachelor of Science, a Doctorate degree in Medicine, and up to seven years of Internship and Residency, depending on their specialty. Physicians are licensed by the State of California Medical Board and are certified by their specialty Board. At Genesee Medical Group, an M.D. will be assigned as your Primary Care Physician (PCP).
NURSE PRACTITIONERS
Nurse Practitioners (N.P.) complete a Master's or Doctoral degree program in Nursing Science and have advanced clinical training beyond their initial professional as a Registered Nurse (R.N.). Nurse Practitioners are licensed clinical professionals by the State of California Board of Nursing. They are able to diagnose and treat acute and chronic conditions, order tests and procedures, and prescribe medications and make specialist referrals. At Genesee Medical Group, Family Nurse Practitioners work side by side with your PCP as part of a collaborative team in providing your care.
PHYSICIAN ASSISTANTS
Physician Assistants (PA) are medical providers who are licensed to diagnose, treat and prescribe medication. They have undergone extensive medical training and have a background in patient care. At Genesee Medical Group, PAs work with your primary care physician as part of a collaborative team in providing your care.
MEDICAL ASSISTANTS
Medical Assistants (MA) are non-licensed clinical staff who work under the direction of the providers to assist in your care. A Medical Assistant has completed a certified training course or higher at an accredited trade school or college. Our Medical Assistants will assist with your exam, collect specimens, perform lab tests, and administer medications and vaccines.
REFERRAL COORDINATORS
Referral Coordinators assist the providers with the administrative side of your care, such as obtaining insurance authorizations, ordering tests, or making referrals to specialists.