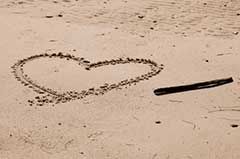 Return to Cardiology Tests
Exercise Stress Test
Exercise Stress Test (aka a treadmill test) – An exercise stress test is performed while the patient is exercising on a treadmill or stationary bicycle. It is used as a screening tool to test the effect of exercise on your heart. It provides an overall look at the health of your heart.
You will walk on a treadmill machine while the electrical activity of your heart is monitored through EKG and blood pressure readings. This will measure your heart's reaction to your body's increased need for oxygen.
To prepare for an Exercise Stress Test (non-Nuclear) Treadmill
You must not eat, smoke, or drink beverages containing caffeine or alcohol for a minimum of 3 hours before the test.
You should continue all medications unless instructed otherwise.
Wear comfortable shoes and loose clothing to allow exercise.
PREPARATION PRIOR TO PROCEDURE:
DO NOT SMOKE OR DRINK REGULAR OR DECAFFEINATED COFFEE/TEA/SODAS OR CAFFEINATED OR ALCOHOLIC BEVERAGES FOR (3) HOURS PRIOR TO THE PROCEDURE. DO NOT EAT CHOCOLATE FOR (3) HOURS PRIOR TO THE PROCEDURE.
Please shower or bathe the day of the test. DO NOT apply lotion or powder to your chest.
Wear loose fitting slacks or shorts, a skirt or blouse with buttons in front, sneakers or walking shoes. NO METAL UNDERWIRE BRAS.
The doctor or office may ask you to discontinue certain medications for (24) hours to (48) hours prior to the test.
Viagra should not be used (24) hours prior to the test.
CANCELLATIONS must be made (24) hours in advance, due to scheduling
Notify us of ALL medications you have taken in the last 24 hours, including any natural medications or supplements.
Why the Test is Performed
A stress test is performed to determine causes of chest pain, the exercise capacity of the heart, appropriate exercise levels in those beginning an exercise program, and to identify rhythm disturbances during exercise. There may be additional reasons that your health care provider requests this test.