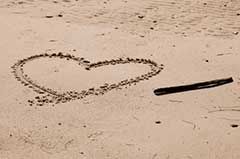 Return to Cardiology Tests
Nuclear Stress Test (Sestamibi)
Nuclear Stress Test - Similar to the exercise stress test, but with nuclear imaging that shows how well blood flows into the heart muscle, both at rest and during activity.
Watch a Video on YouTube about This Test:
Go to Nuclear Stress Test video.
How the Test is Performed
This test is done in multiple stages:
An IV will be started by a licensed emergency medical technician. You will then either walk on a treadmill or be given a medicine called a vasodilator to increase your heart rate. You will be given the medication if your doctor does not think exercise is safe for you or if you have joint problems that may make doing so difficult. You will be monitored during the testing process by the technician and your physician.
Before and after the exercise or medication, 3D images will be taken of your heart by a licensed nuclear medicine technician. This is done by injecting a radioactive medication into your vein so that it mixes with your blood and can be watched as it circulates back to your heart. The amount of radioactive exposure is less than having an x-ray taken.
Unlike testing at the hospital, the equipment used in-office allows the patient to remain comfortably seated while a special camera rotates around you, taking real-time 3D images of your heart at work.
The entire test can take from 2 to 4 hours. We encourage you to bring a caffeine-free lunch or a snack to enjoy after you've completed the fasting portion of testing.
We offer in-office Nuclear Stress testing twice per month. If the physician decides your testing is appropriate for the hospital, due to physical symptoms, scheduling availability, patient convenience or insurance coverage, we will schedule you for the appropriate hospital and you will be given information for the hospital procedure.
How to Prepare: PREPARATION PRIOR TO PROCEDURE:
DO NOT SMOKE OR DRINK REGULAR OR DECAFFEINATED COFFEE/TEA/SODAS OR CAFFEINATED BEVERAGES FOR (24) HOURS PRIOR TO THE PROCEDURE. DO NOT EAT CHOCOLATE FOR (24) HOURS PRIOR TO THE PROCEDURE.
DO NOT EAT OR DRINK ANYTHING AT LEAST FOUR (4) HOURS PRIOR TO TEST
BRING A LIGHT SNACK (SANDWICH, BEVERAGE, ANYTHING YOU DESIRE). You will be instructed to eat at some point during the test by the nurse.
IF YOU ARE DIABETIC ON INSULIN OR ORAL HYPOGLYCEMIC MEDICATIONS, CONTACT YOUR PHYSICIAN FOR SPECIAL DIETARY INSTRUCTIONS.
Please shower or bathe the day of the test. DO NOT apply lotion or powder to your chest.
Wear loose-fitting slacks or shorts, a skirt or blouse with buttons in front, sneakers or walking shoes. NO METAL UNDERWIRE BRAS.
The doctor or office may ask you to discontinue certain medications for (24) hours to (48) hours prior to the test.
Viagra should not be used (24) hours prior to the test.
CANCELLATIONS must be made (48) hours in advance, due to the isotopes being prepared for this procedure.
Failure to cancel your procedure in (48) hours or more will result in charges to you for the isotopes.
Notify us of ALL medications you have taken in the last 24 hours, including any natural medications or supplements.
This test is provided by a third-party company and requires a MINIMUM of 48 hour notice for cancellation due to the specific medications that are ordered. Failure to notify our office of cancellation 48 hours in advance may result in charging you for the medication costs.